Get scalable and end-to-end customized handyman app like uber for your home service business.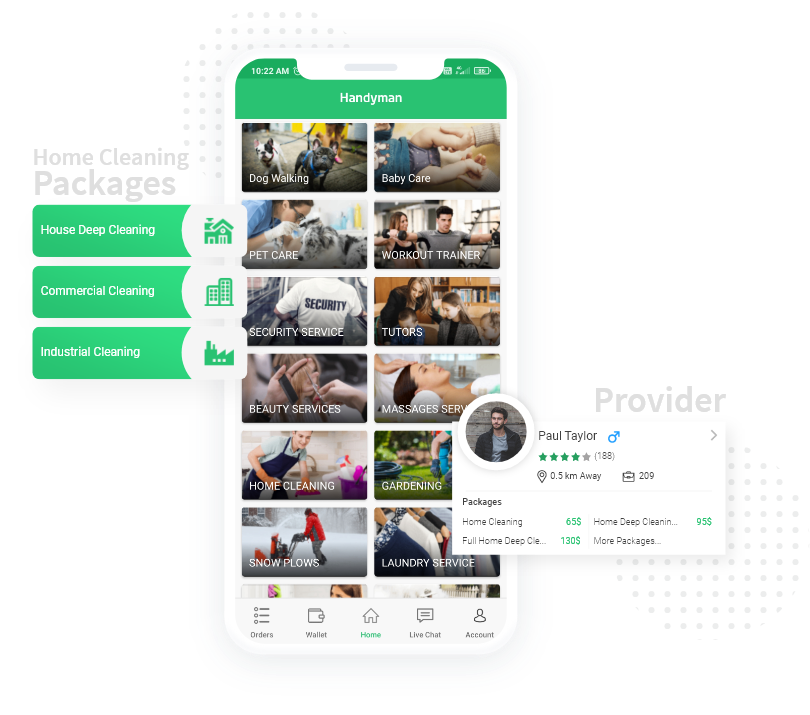 Launch On-Demand Uber Like Handyman App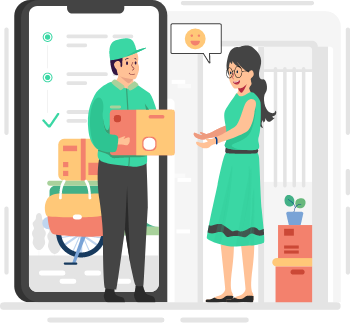 Whether it's significant problem or a minor issue at house repair people use to call a handyman. To make this process simple handyman service app has been developed where the user can easily search for a service provider and book a service with them on any day. Handyman app is the digitization solution to make handyman services smarter, and it bridges the gaps between customers and handymen in real-time.
Take your home service business online with an on-demand handyman app. We offer a uber handyman app solution as per your customized requirements. Our handyman app is ready for both Android and iOS platforms. Along with the slew of apps from White Label Fox, get the idea of doing business with us.

User can log in or sign up with providing basic information or through social sites like Facebook, or Google.

Users can search the nearest provider, they can view provider profile details with name, far from their location, service pricing, ratings, etc.

After checking the provider profile and pricing; a user can choose the service based on their requirements and place the order.

After accepting user requests, the provider arrived at the user location and offer a service.

Once the service is completed, the user has a flexible payment option like cash, card, and in-app wallet.

Once payment completed, the user & provider both can give reviews and ratings to each other based on the service experience.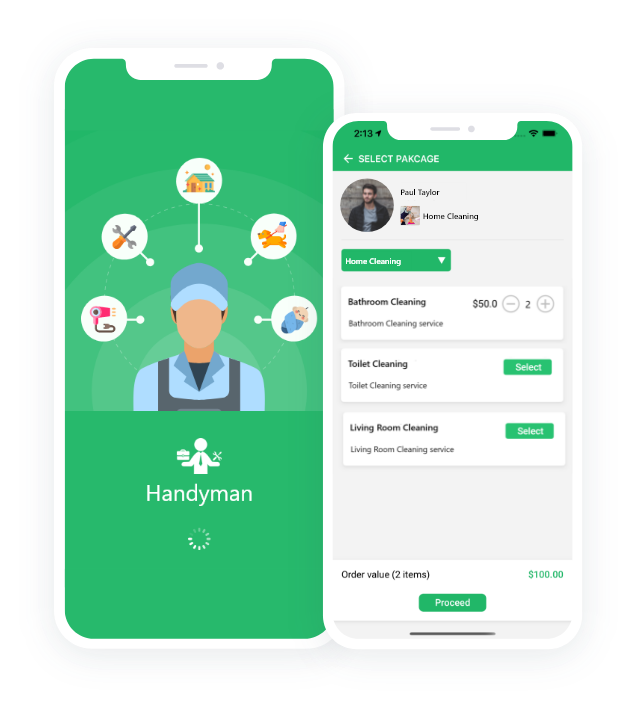 Users can see the complete list of providers, including their details and skills suited to their needs.

Users can pay using any of the payment methods provided by the admin to have easier access.

Users can view the entire services request history including complete details of all the services.

Users have the option to track the status of their service in real-time with the assigned service provider.

By using any exclusive discounts or offers offered by the admin, users are able to save money.

Users who wish to schedule a service for the future can do so by specifying the date and time.

It is easy for the app provider to log in via social account sites like Facebook, Google or email.

A service provider can manage new service requests by accepting or decline options with a single tap.

Providers can see what they earn on a daily, weekly, monthly and yearly basis according to their needs.
Providers have the option to control their availability through On/Off options.

A provider can manage their profile info details like name, email, contact details and profile pictures.

In order to provide the best services to customers, providers are able to manage their services information and pricing details.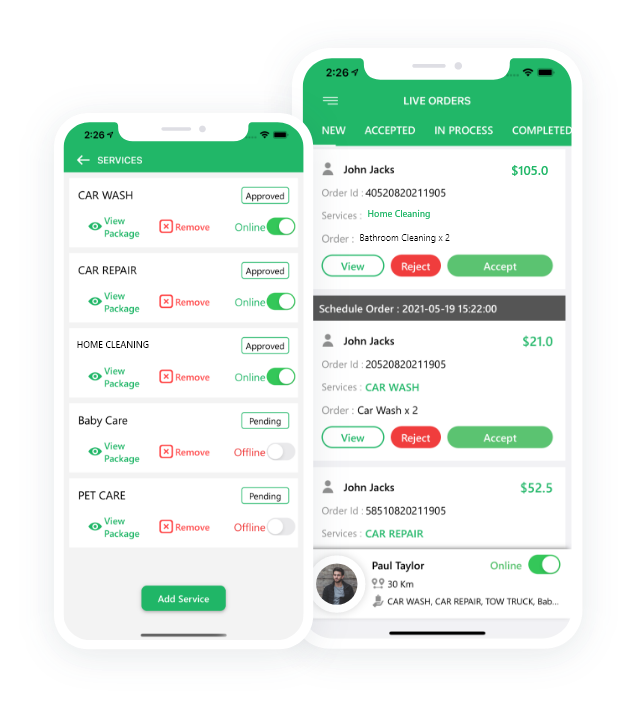 Handyman - Super Admin Panel
Check Our Super Admin Web Panel Features
of handyman on-demand app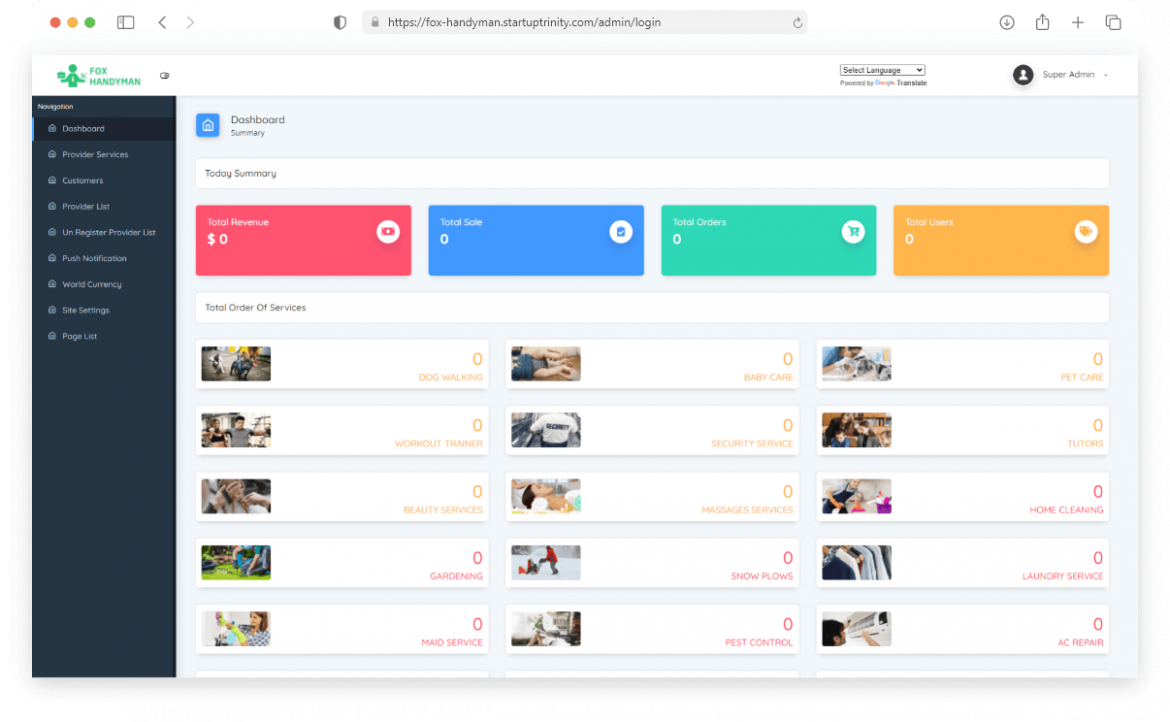 Admin can manage and see all the details of a service provider with info like name, email, services and more.

Admin can select, add, delete, or edit the user profiles to manage the app for all users.

Admin has the option to set the services to X range of radius as per their needs using the map.

Admin has the option to choose and change the payment mode to which offer by the system as per their needs.

Admin can track the provider location, services status and other information.
With a powerful dashboard, the admin can view and manage all customer booking requests, live status and more.
Technologies We Work With